Updated: April 7, 2012
Do you like playing games on your smartphone or tablet?
I do, because they're a great way to relieve some stress from the daily grind.
And I know a lot of Filipinos do, based on how popular Angry Birds was last year; and in recent months, Temple Run and Draw Something.
Personally, I like playing games which don't induce frustration, something that Angry Birds & Temple Run are guilty of.
Moreover, I like games which I can play alone and don't require me to bother play with friends (Draw Something anyone?). 😛
That's why if you inspect my iPad, you'll see most of my games are solitaire-type apps like Sudoku, Unblock Me and a few other strategy games.
Quite recently, I found myself hooked on a game called Streetfood Tycoon.
Honestly, show me any "tycoon"-type game and you'll certainly get my interest. That's why when I saw this game on the list of recently released apps, I did not hesitate to install it on my iOS device to take it for a spin.
The game is actually fun and easy to learn, and reminds me so much of my old PC game favorite, Lemonade Tycoon; but instead of selling lemonade, you sell mini corndogs and french fries here.
I was having a good time playing the game when a big surprise came in the form of an in-game upgrade option to sell fishballs and kwek-kwek.
"What?! Fishballs and Kwek-Kwek??? Is this game made by a Filipino?" I wondered.
I immediately fired up my browser and went to the developer's website, Kuyi Mobile and there it was, on their About Page:
Kuyi Mobile is an independent game development company based in the Philippines and focused on creating a new breed of mobile games. Our mission at Kuyi Mobile is to create fun and engaging games that people of all ages can literally enjoy!
Learning this made me realize that technopreneurship is alive and well in the country, as it should really be – because I've seen how talented Filipinos can be when it comes to app development and web technology. And I know that this is a niche where we can excel globally.
While there is still a lot of room for improvement and growth when it comes to Pinoy Technopreneurship, I am nevertheless optimistic that this industry will gain more opportunities in and out of the country.
And I hope we can do our part to help them by supporting their projects.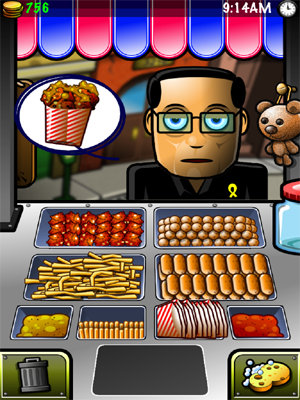 Which brings me back to Streetfood Tycoon, which I assure you – you won't regret downloading.
The Pinoy cultural references are both amusing and entertaining because not only do you get to sell kwek-kwek to "Pee Noy" and "Moony Puhkyaw", but you also get to do it on "Centrale Mercato". 😀
I hope Kuyi Mobile continues to develop this game because this one has a lot of potential. More Pinoy culture references please, more streetfood items (I'm thinking balut and isaw), and a small suggestion, add an option to turn the music and sound effects off (just to save some battery).
In any case, I'd like to congratulate Kuyi Mobile for this game and I'm truly excited to see what other games they'll offer in the next few months. 🙂
So do you have an iPhone, iPod Touch or iPad? Then please support Filipino developers and install Streetfood Tycoon. It's FREE to download and play.
Get more articles like this by subscribing to Ready To Be Rich.