Updated: April 12, 2020
When I was still working in an office, I would often daydream of being able to just working from home. I would imagine myself sitting on the couch with a laptop in front of me. My favorite music playing in the background and I'd be working while wearing only my home clothes or pambahay.
Fast forward to the present time and after working at home for several years, I realized that working on the couch can be nice but it's not very productive. There's too much temptation to put down your laptop and reach for the television remote, or just take a short nap which would eventually turn into a couple of hours of sleep.
So how do you prevent these unproductive situations from happening?
The answer is by simply creating a home office work station. I don't just mean having an area where you can comfortably use the computer, but a dedicated space where you can also do paper work.
It is a place where you can sit down, read and write, do some thinking, organize your financial documents, sort through your bills and do other serious stuff.
If you lack this kind of personal space in your home, then maybe it's time for you to make one. Here are some tips that will help you create a comfortable and effective home office work station.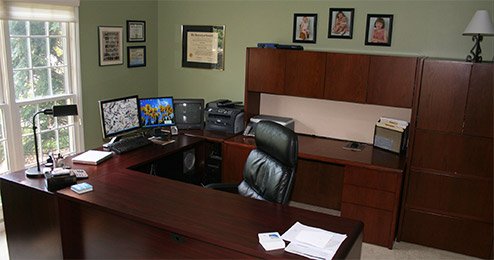 Home Office Work Station Layout and Design
If you have a spare room in your house, you can convert it and make it your home office.
If you don't have a spare room, then just look for a corner where you can set up your work space.
An L shaped desk furniture is usually the best to use, but a regular office desk is also good.
For those who work in front of a computer table, adding a desk beside you where you can write, sort paper and put other stuff is recommended.
Lastly, you can use your dining table if you're on a budget or have space limitations. Invest on a simple filing cabinet or a side utility desk which you can put beside you while working in your dining area. (I used to have this setup)
Home Office Work Station Necessities
Adequate space and good lighting. If you like pacing while thinking, have some room to walk around.
A comfortable home office chair. Invest on a good one with effective back support. You'll be sitting on it while making money so it's worth it.
Have a desk clock or timer and calendar. These can help you manage your time and keep you on schedule with your tasks.
Have a garbage can beside you. You can also choose to have a box where you can throw all paper wastes which you can recycle for later.
Home Office Work Station Considerations
Consider setting up an area in your work station for reference materials such as books, magazines, and other things you often use for information.
Make your office supplies accessible. Keep your desktop and drawers organized so it will be easy for you to get pen and paper, staple wires, a calculator, paper clips, etc.
Speaking of desktops, try to keep it in good order because seeing a cluttered desk often decreases one's apetite for work. Consider having a cork board and pin all your notes and other paper mess there.
Decorate your work station with things that spark creativity and inspiration. Bright colors boost energy while personal goals on paper that's posted visibly can help you keep motivated.
Bonus: Home Office Work Station Feng Shui
Locate your home office far from your bedroom. You work in one while you rest in one. The two environments do not complement each other.
Wooden pieces with red accents are ideal in stimulating creativity and productivity.
The air circulation inside the room should be continuous to encourage good flow of chi.
When you're on your desk, be sure you are facing the open area of the room. Don't place your back to the door or work facing the wall.
More feng shui tips here.
What other tips can you recommend with regards to setting up a home office work station? Kindly share them below as a comment.
What to do next: Click here to subscribe to our FREE newsletter.